Right now in this picture…Boy Blunder is thinking he may have under prepared the Red Sox offense and starting rotation. Is there anyone worse at free agent spending than Theo. Knowing that Papi was a HUGE question mark, and Mike Lowell could be a slow starter, Theo goes out and signs that BIG BAT Rocco Baldelli. Could have had Adam Dunn, Bobby Abreau and Pat Burrell all on the cheap, not too mention countless others, and Theo ended up with Baldelli and an injured Mark Can't Play. Looks like another long summer of second guessing….followed by an even longer winter of our discontent.
This putz, who has never been liked in his time in Boston and who has consistantly under performed his contract needs to step up. Drew has been the luckiest man in Boston sports history to have flown under the radar this long and suck as bad as he has. There was alot of uproar when Drew and his bloated 70 million dollar contract came to town. At the time he was brought to Boston, it was thought Drew would help an ailing middle of the line-up, and hit 5th. Well in two plus seasons, Drew has rarely hit 5th, and when he has he has stunk on wheat. Sure Papi is a problem. but this DONKEY HOLE needs to produce as well. Imagine how well Jason Bay would hit if he had some freaking protection. Hey Drew, ever heard the expression "better late than never". Learn it….Live it….Love it…..Do it…..
Remember the days when Big Papi used to come to the plate and actually drive in runs and occasionally win games for the Sox. Those days seem like a distant memory, as Papi has morphed into a mediocre singles hitter, I use the term very loose. Papi seems to have disappeared over night, it is as if his secret powers have gone away….or maybe he forgot where he hid his needles and pills….hey big guy you might wanna give Manny a call…he may know. The Sox are in deep with Ortiz and the 30 million they owe him. He is clear his best days are long behind him, and worse yet they can't use him anywhere but at the DH spot. It's going to a long strange trip for Red Sox Nation and the guy wearing #34 who looks alot like David Ortiz, except he hits like ****.
Though you may be a hero in life, and an inspirational figure, on the mound your a great big under achiever. Since being dubbed the "real ace", all Lester has done is disappoint. Lester gagged and wheezed the Sox out of the ALCS last year, and killed thier chances at repeating as World Series Champions. This year he is trying to make sure they don't have any chance to make the playoffs. Lester is 2-4 this season, and he is lucky to be that. His e.r.a is as big as CC Sabathia's waistline, and his starts have become painful to watch as he crumbles like a house of cards at the first sign of adversity. It's time to grow up and live up to the expectation of being a front line starter. Who does Jon Lester think he is anyway, Phil Hughes ?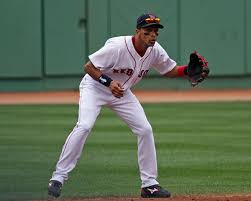 Is there any worse tandem at shortstop in all of baseball than these two ********* ? It is amazing to me that the Red Sox and thier 122 million dollar payroll ended up with these two. Lugo platoned with the Dodgers before coming to Boston, and Nick Green played in the Yankees farm system last season, and was never called up. The same Yankee team that did not make the playoffs last year. Is it too much to ask for a shortstop that can defend and hit at the same time. These two do neither very effectively, and more often than not are looking at balls go past them in the rear view mirrors. Somebody get me Nomar on the phone……..
We knew going into this season not to expect much from Tek's bat, and so far he has lived up to that expectation. He has hit roughly .220 or worse all season, and that number looks to only get worse as the days get warmer. Now it looks like along with his dead bat, Tek also has a dead arm, and stolen base records look to fall everytime he faces a team with any speed. It would have been one thing to bring Tek back IF the Sox had picked up a bat and could afford to limp along without his offense…but they didn't….and now along with Jd Drew and Julio Lugo/Nick Green, Tek and company round out a bottom of the line up that would give the Nationals a run for thier money……
What can I say about the Brad Penny….local vendors are thrilled to have him in Boston….as pizza and doughnuts sales have tripled since his arrival. Penny on the mound is another story alltogether. Penny has been ill equipped to handle the rigors of the American League since his arrival to Boston. His pitching has resembled a bad NFL defense, as his e.r.a has been around a touchdown or so everytime he takes the mound. The good news for Penny is he looks to shed some of that excess poundage before beach season as he gets a workout during his starts chasing all the baserunners he allows.